Comfort Keepers Myrtle Beach office offers a wide selection of rewarding career opportunities – part-time and full time – for people who have a heartfelt desire to help seniors and other adults live safely, independently and happily in the comfort of their own homes.
At the very heart of each Comfort Keeper operation are the Comfort Keepers – the people who bring the unique Comfort Keeper brand of caregiving to clients. There are also opportunities for people to work in and manage offices, coordinate client care, and market Comfort Keeper Services.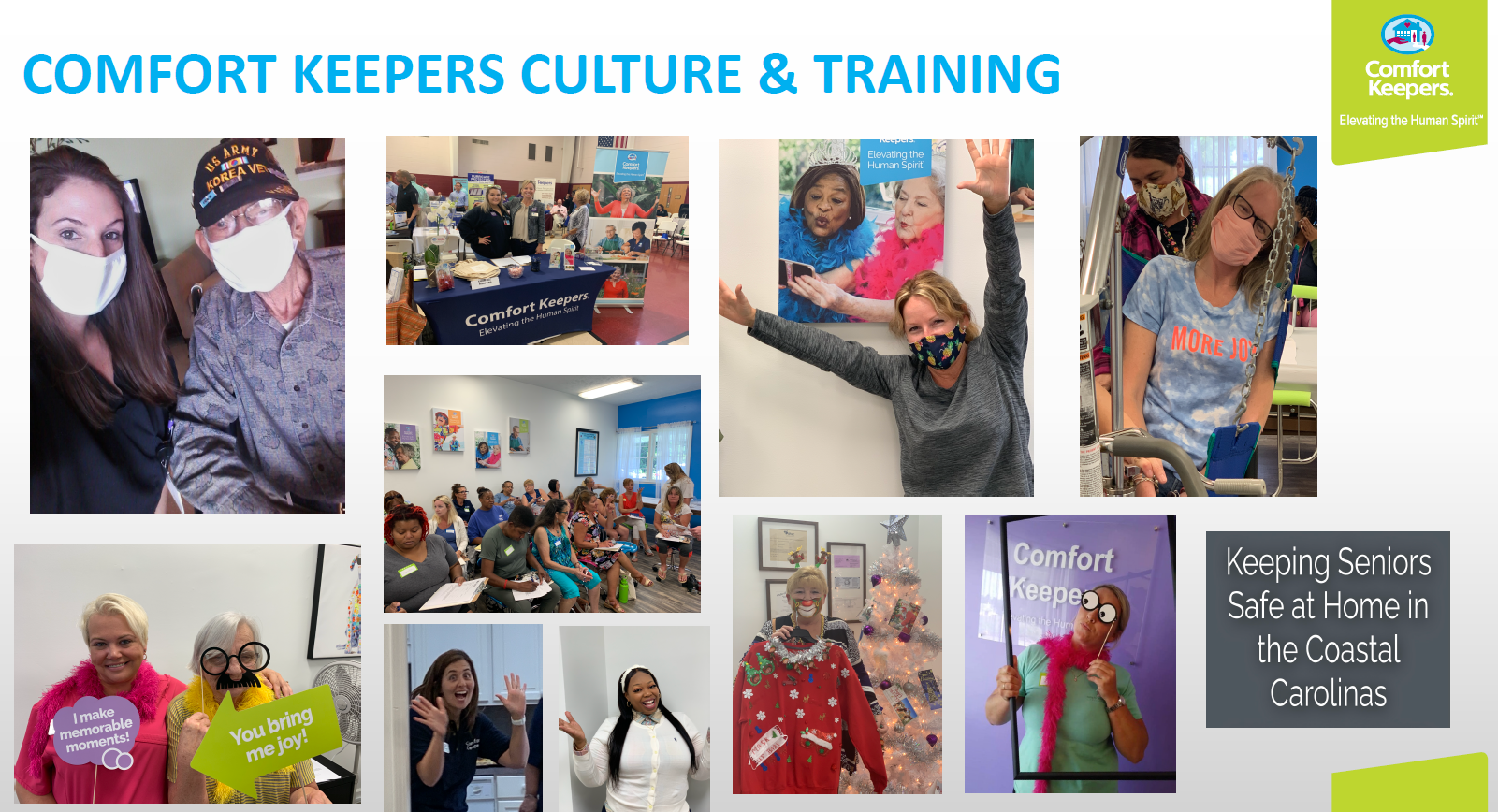 Care Services
For more than 20 years, Comfort Keepers has been dedicated to providing the highest quality in home care in Myrtle Beach to those who need a hand with daily life and activities. After care training (including infection control training), our caregivers travel to clients' homes to help seniors achieve a greater quality of life through home care, companionship, and provide moments of joy whether big or small.
A typical caregiver job description may include:
Meal preparation and cooking
Conversation and companionship
Light housekeeping
Transportation to and from doctors' appointments (or arranging telemedicine appointments)
Running errands (or arranging grocery delivery)
Helping with personal care, including bathing, dressing, and hygiene
Reminding the client to take their medication on time
Helping with feeding and other everyday tasks
Tracking your client's condition and reporting changes to your supervisor
Providing live-in or overnight care (shift differential provided)
Assisting with dementia or Alzheimer's care
Offering respite care to relieve family caregivers
---
Janine Sanchez
National Founders Award Winner 2021 Comfort Keeper of the Year
Comfort Keepers® of Myrtle Beach, SC and Shallotte, NC celebrates Janine Sanchez who was recognized as a Kristina Butler Comfort Keeper of the Year Winner.  Her accomplishments were honored at the Founder's Luncheon during the Comfort Keepers Connect Leadership Conference in California.  
The award is named after, Kristina Butler, who founded Comfort Keepers in 1998.  Kristina was a registered nurse working in home health care and as a registered nurse, she noticed that her patients wanted more than just help with personal care and everyday tasks; they wanted companionship and someone to brighten their day with conversation.
"Janine leaves a footprint wherever she goes", says owner, Kristin Kane. "Janine provides the highest level of quality care achievable with the respect and dignity our seniors deserve.  She goes above and beyond to make someone's day brighter. This award represents the founder's vision, and our entire team are incredibly proud of Janine's achievement." 
Janine was one of six Comfort Keepers selected from over 200 Comfort Keepers national franchises.  
Janine provides all newly hired Comfort Keepers with Skills & Scenario Training and continues to work with clients as a valued Comfort Keeper.
---