---
Become A Caregiver. Become A Hero.

---
Text

APPLY

To

(732) 978-9500

To Start Working With Us!

Apply to become a home caregiver here at one of our local offices. You can help make home the safest place for seniors to be!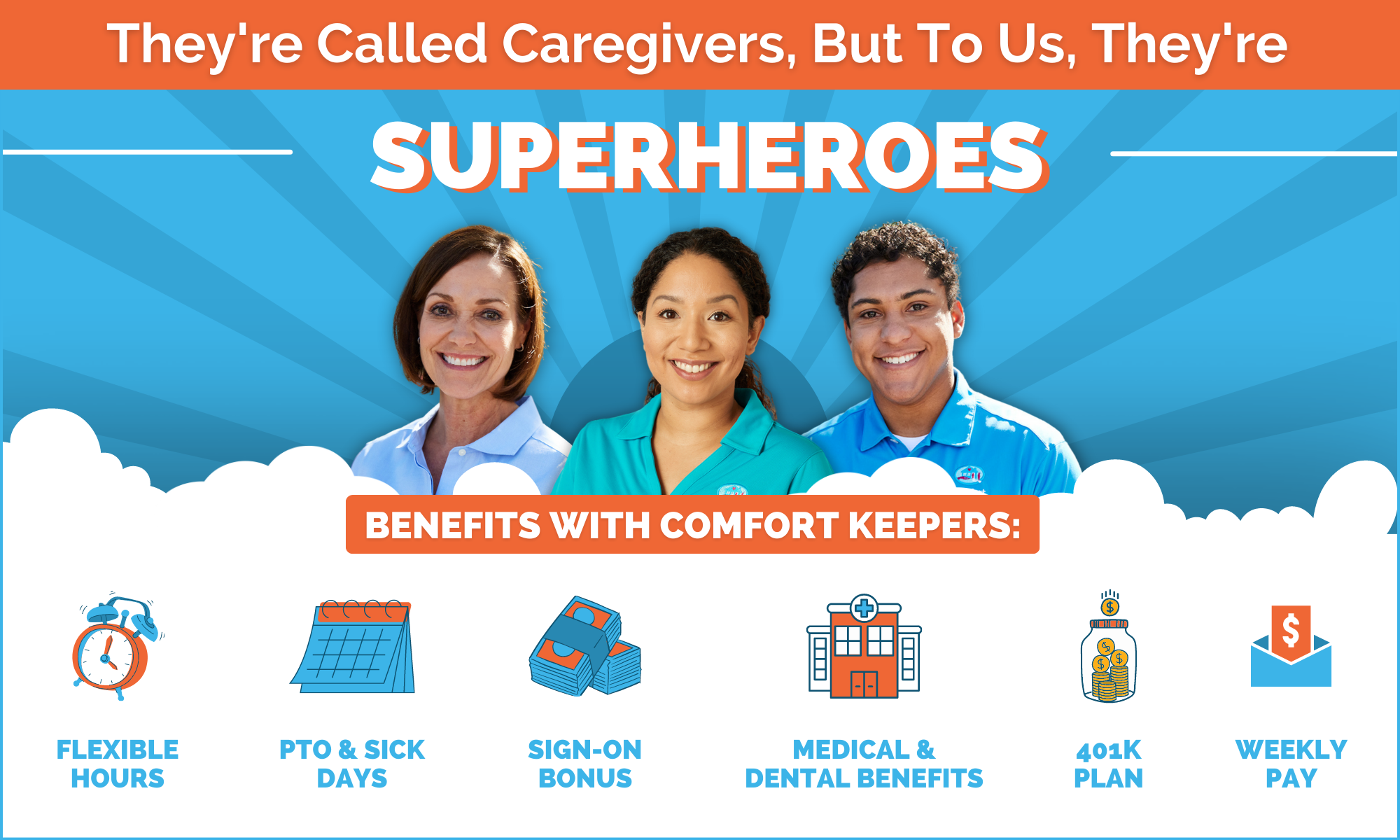 ---
Are You Looking For A Job Where You Can Make A Difference?
Get Certified as a Certified Home Health Aide (CHHA) With Comfort Keepers!
Are you passionate about caregiving and looking to elevate the human spirit through your work? Comfort Keepers is here to help. We are offering qualified candidates an opportunity to receive your CHHA certification, sponsored entirely by us! Apply now!
What We Offer:
Complete 60 hours of online coursework and 16 hours of in-person clinical training, with all costs covered by Comfort Keepers.
A guaranteed job placement with Comfort Keepers upon successful completion of the program and certification.
Your Commitment:
A 6-month commitment to work with Comfort Keepers upon receiving your CHHA certification.
If you leave before 6 months, you are required to repay the training costs.
Why Become a CHHA With Comfort Keepers?
You will be part of a team dedicated to providing compassionate and professional care to seniors.
Our mission is to elevate the human spirit through quality, compassionate care. Join us in making a difference in our clients' lives.
Our benefits package includes competitive pay, flexible scheduling, paid time off, 401k options, and continuous learning opportunities.
Overview of Caregiver Duties
As a Comfort Keepers caregiver, your primary responsibilities include providing companionship and personal care, assisting clients with daily living activities, and supporting their independence. It's a hands-on role that enables you to build genuine connections with clients and their families while enhancing their quality of life. Our caregivers can assist with a wide variety of tasks, from helping seniors make appointments and taking care of grocery shopping trips to light meal preparation and housekeeping services. Since we know that every senior is unique, we customize care plans to meet the needs of every client that we serve. When you become a caregiver with us, you'll enjoy the thrill that comes with helping senior adults live their best lives.
Benefits of Being a Comfort Keepers Caregiver
In addition to the personal satisfaction of knowing you're making a difference, our caregivers enjoy opportunities for personal and professional growth. With competitive pay, benefits, and a supportive work environment, our team has the resources and encouragement needed to excel in their caregiving roles. Whether you are just starting out as a caregiver or are relatively advanced in your caregiving career, you can find a place at Comfort Keepers.
Qualities of a Comfort Keeper Caregiver
A successful Comfort Keeper possesses qualities such as compassion, empathy, and reliability. They also demonstrate strong communication skills and a deep commitment to providing the highest level of care to their clients.
Ready to Launch Your CHHA Career With Comfort Keepers Today?
Space is limited! Reach out today to see if you qualify for this exciting opportunity and to reserve your spot in our upcoming training session. Call us at (732) 710-4289 or visit Caregiver / CNA / STNA Jobs in Central New Jersey | Comfort Keepers.  Elevate your caregiving career with Comfort Keepers and become a Certified Home Health Aide!