---
Become A Caregiver.  Become A Hero.
Apply to become a home caregiver here at one of our local offices. You can help make home the safest place for seniors to be!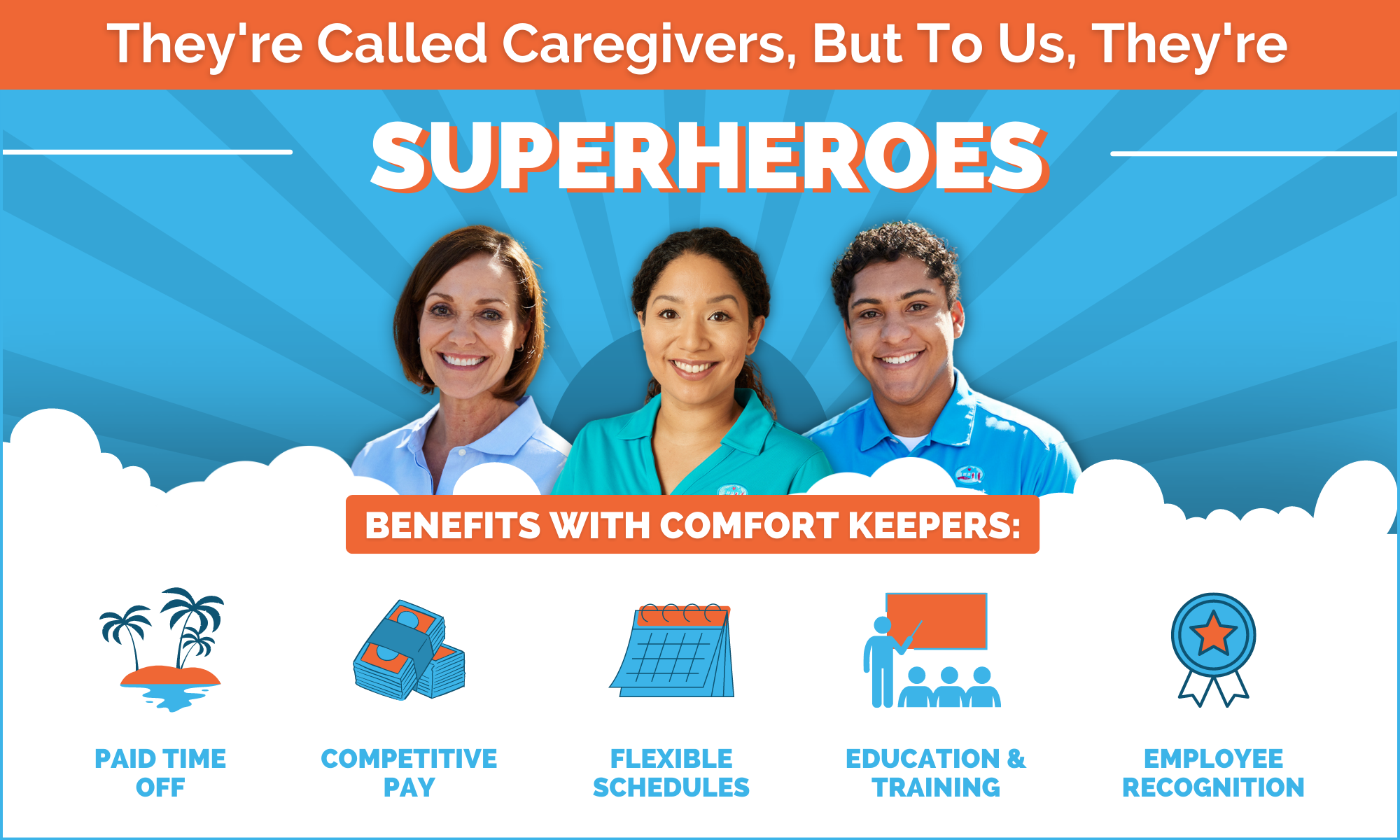 ---
Learn More About Our Amazing Benefits by Applying to Our Open Caregiver Jobs in St. Joseph, MI!
Discover why so many individuals desire to work in caregiver jobs in St. Joseph and the surrounding areas. 
Comfort Keepers is a premier service for seniors. Our senior care services have been acknowledged as award-winning in St. Joseph and the surrounding area because our in-home caregivers treat each client like a loved one or family member. We're always searching for ways to grow our senior care services by posting new caregiver jobs for folks to apply for. Call us today at 269-556-9999.
Please fill out an Application for One of Our Open Positions
Our Advantages
Comfort Keepers offers competitive pay and flexible scheduling and hours within those schedules. We will provide you with opportunities to advance your career when you join the Comfort Keepers care team. Comfort Keepers caregiver jobs boost your morale, and you'll feel fantastic knowing that the work you perform benefits others and makes their lives simpler. The following is a complete list of our advantages:
Schedules that are consistent but flexible
Working from home is convenient.
Paid initial and continued training
A Comprehensive Recognition Program for Caregivers
Bonuses for referring others
Paid vacation
Pay for vacations
Preparing for Retirement
Discount Movie tickets from Regal and United Artists
If you're interested in one of our open caregiver roles, apply today!
How Do You Become a Comfort Keeper?
You have vital attributes to be a Comfort Keeper if you have a kind, loving personality and enjoy actively assisting people. We also search for the following characteristics:
Creative
Resourceful
Joyful and upbeat
Capable of transforming ordinary events into exceptional ones
sociable and outgoing
Confident 
Professional
Flexible 
Patient
Self-Motivated 
Punctual
Discreet and respectful
Honest 
Organized
A Comfort Keeper's job is to make someone's life better by assisting them in remaining or becoming self-sufficient and proud of the life they wish to live. The activities of daily life are at the heart of this. On the other hand, Comfort Keepers caregivers go above and beyond the basics of light housekeeping, grocery shopping, and additional non-medical assistance. A Comfort Keeper is a compassionate home health aide who strives to lift seniors' spirits by providing personal care that fosters relationships. This is referred to as Interactive Caregiving.
Yes, Comfort Keepers are available to assist with daily tasks. Senior living frequently necessitates in-home caregivers to assist elders with food preparation, minor housekeeping and chores around the house, and everything else they require to be self-sufficient, such as medicine reminders. However, the more crucial component of a caregiver's job is actively involving clients in life. Cooking favorite dishes together, looking at old photos, visiting friends or attending community activities, continuing favorite hobbies, going for a stroll, or solving puzzles are all examples.
---
Fill out an application today.
Apply today if you're interested in working a caregiver job for Comfort Keepers in St. Joseph or the surrounding region! To apply for urgent consideration, please click the button below.
Please fill out an Application for One of Our Open Positions