---
Become A Caregiver.  Become A Hero.
Text

 

APPLY

To

 

(928) 900-0829

To Start Working With Us!

 

Apply Now!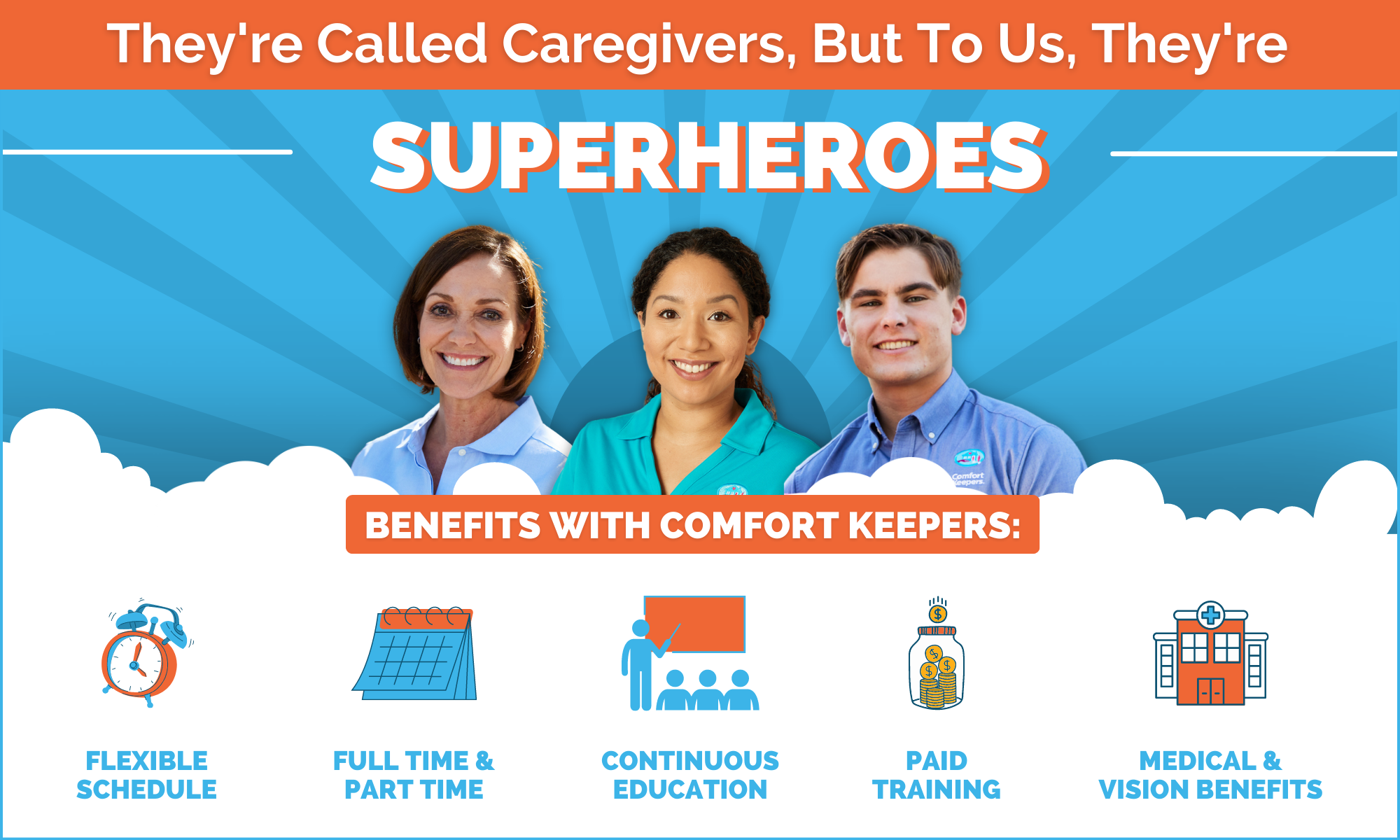 ---
Text 
APPLY
To
(928) 900-0829
To Start Working With Us!
---
Are You Looking For A Job Where You Can Make A Difference?
Have you ever thought about giving the needed care to an elderly or disabled person in their home? A lot of people's lives can be vastly improved by providing this crucial and gratifying service. Comfort Keepers in Flagstaff is a great place to work if you are good at helping people in need and naturally have a lot of empathy and compassion.
At Comfort Keepers, we place the same value on skills and results as we do on things like kindness and dedication. We provide benefits, like competitive compensation and paid time off, as a way of saying thank you to our employees for their hard work. We look forward to welcoming new caregivers into our Comfort Keeper family because we understand their value to our organization the moment they join our team. We put a lot of effort into creating an uplifting working culture because we are acutely aware of the effect that our jobs have on our clients and their families.
What Does a Caregiver Do Exactly?
Caregivers are helpful people who assist individuals who can no longer do things on their own because of illness, injury, or a disability. These afflictions could be temporary or ongoing. These people benefit from caregivers' consoling presence and enjoy their company. Caregivers are in charge of a variety of other responsibilities, both inside and outside the client's home, in addition to assisting their clients with everyday tasks and monitoring their health. Caregivers help their clients remember to take their medication at the specified time, among other things, but they can also help their clients with the following:
Communicating with the client, their family, and their medical team in a clear and effective manner

For those who find it difficult to move around or care for themselves alone, assistance is provided with bathing, dressing, and basic grooming tasks

Coordinating the transportation of clients to their regularly scheduled medical appointments

Prepare and share meals with the client, lightly clean their home, and perform other daily tasks as needed
At Comfort Keepers, our caregivers' top priority is ensuring that our clients are given the opportunity to live each day to the absolute fullest. Our approach to caring for our clients is all-encompassing. The majority of the time, in-home care is about creating basic, healthy routines for the client to follow and providing companionship for them. To help our clients live peacefully in their own homes for as long as possible, our caregivers provide in-home care of the highest caliber.
The field of helping others has a lot of perks and rewards. This sector offers people the chance to earn a fair income while also having significant growth potential. At Comfort Keepers, everything boils down to respect. We value our employees and want them to know it so they can concentrate on producing high-quality work for our company. As a result, we offer more than just respectable pay that is competitive with other market possibilities. Here are just a few additional benefits of doing business with our company:
A retirement plan for employees (401K)

Health Insurance including Dental and Vision coverage.

Paid Time Off, Holiday Pay, and reimbursement for travel costs.
What Does the Future of Caregiving Look Like?
The demand for in-home care is rapidly expanding. While live-in caregiver incomes have climbed by 26% over the past several years, the market for live-in caregivers is expected to grow by 38% over the next five years. To improve their chances of getting a career in the nursing sector, some people pursue occupations in the senior care industry, such as those that need round-the-clock client care. Many people who work as caregivers love what they do so much that they want to become nurses. This encourages college students even more to look for CNA jobs, which are now in high demand. Because they can constantly pick up new skills and advance in their jobs, Comfort Keepers' caregivers have the ability to develop professionally and become the best versions of themselves.
How medical services are provided in the US in the coming years will change significantly as more individuals need care at home. As long as technical and medical advancements allow people to live longer lives and as long as the prevalence of diseases like Alzheimer's and cancer continues to climb, the healthcare system will remain understaffed and overworked. As a result, positions for full-time and part-time CNAs, in-home caregivers, and private-duty nurses will always be available in the healthcare sector.
The baby boomers will be entering the age bracket for in-home care over the next 10 to 20 years, and there will be a substantial increase in the number of people in their senior years. These elderly people will require more care and attention as they age, and this tendency is likely to continue. It's easy to see how a job providing in-home care to these individuals would be a trustworthy and financially rewarding alternative given these statistics and the projected loss of over 30% of America's rural hospitals. At every level of care, there is, and will continue to be a huge need for caregivers.
What Kind of Person Makes a Perfect Caregiver?
While it may seem like there are many different duties and hours of work involved in providing in-home care, the benefits of the job ultimately outweigh any of the difficult aspects. Because there are so many different requirements for the job, it can be hard to say what one trait a caregiver must have in order to do their job well. We like to think of our caregivers as active agents of transformation, along with the rest of our team. They are in charge of helping the client create good habits and be a friend, which leads to long-term change and a positive attitude.
A Day in the Life of Caregiving
The caregiver will do a variety of tasks that require both organization and physical work. Keeping track of the care plans and preferences of different clients also requires both mental and physical work. Making sure your client has access to the resources they require to deal with the outside world on a daily basis will be your responsibility. Even simple things like keeping oneself clean and well-groomed might be difficult for some elderly people.
You might talk to a family member about a situation that needs to be resolved or help out with some basic domestic duties. You will travel to the grocery store with your client if they require you to pick up something specific they want to prepare for dinner. If necessary, you will also assist them in following the recipe. You will accompany them if they want to get some fresh air, whether it be to a park for some light exercise, a museum for mental stimulation, or a coffee shop for a change of scenery. You will also engage in conversation with them and be their friend. Their level of happiness is directly tied to how much time you spend with them and how ready you are to assist them. If you want to ensure that they will be happy no matter what you do, use their names consistently and treat them with the dignity and respect they deserve.
A great example of how intimate a caregiver and client connection can be is when they cook together. It can also be enjoyable! Caregivers frequently eat with or prepare meals for the individuals they look after in addition to cooking meals for their clients. Clients frequently feel closest to their caregivers when they are doing something as basic as talking about their day or other topics while waiting for dinner to cook.
What Are People's Opinions About Comfort Keepers?
We are delighted to let others speak for us, even though we could easily go into great detail about the advantages of working in the in-home care profession, especially for our own business. For instance, many of our friends and coworkers have seen the significant effort we make to reach our goal of providing the highest quality in-home care services possible and have applauded it.
Newsweek has been doing research on "America's Finest Customer Service" for the past two years, and we have consistently gotten higher scores than any other in-home care provider for having the best customer service. 
As a result of the extremely significant work we do, our purpose is to directly improve our customers' emotional wellness. Peer reviews like this one assist in validating and stressing the value of our objective to provide the best in-home care possible.
Awards are fantastic ways to show appreciation, and we certainly value them all, but they do not provide an in-depth view of how Comfort Keepers does business. Let us demonstrate for you. Comfort Keepers is looking for competent people to fill these positions as soon as possible because our caregivers make such a tremendous impact on the lives of our clients and their families. Since we work so hard to stay at the top of our field and give our customers high-quality services, we hire, train, and screen each and every one of our caregivers with extra care. We understand how essential they are to our success as a whole, so we treat them with the utmost care. Since the company's founding more than 20 years ago, Comfort Keepers has made ensuring that its clients have wonderful days ahead one of its top goals. In the end, good days lead to happy lives.
There are a lot of testimonials, but I think one from a recent client said it best when she said that our caregivers are always on time and clean, and they always help out wherever and whenever they can.
But even when we do lose our caregivers, they frequently tell us how motivating and wonderful it is to work at Comfort Keepers, which is something we are very proud of. When asked about their experiences working here, the vast majority of our alumni who have taken the time to provide reviews of their time with us on job-hunting service websites like Indeed have nothing but positive things to say about our company.
One of the most important things about Comfort Keepers is that our employees are kind and attentive to all of our caregivers and customers and that we are recognized as a great place to work.
We take tremendous measures to show that we care about and are concerned about our employees, such as approving requests for schedule changes or allowing them to take the weekend off. We take good care of our caregivers because we are confident that they will take good care of their clients.
Are You Willing to Work in an Industry Committed to Serving Others?
People with the ability to guide people physically and emotionally are the finest caregivers. They establish warm ties with their clients while remaining calm under stress at work. Consider becoming a Comfort Keepers caregiver in Flagstaff if you have these qualities and are looking for a job that will make you happy and pay well. We would love to have you here, where you can completely experience our welcoming and nurturing environment. Call us at (928) 774-0888 if you have any questions regarding how to get a job in the in-home care sector.