Become A Caregiver. 

Become A Hero.
---
Text

APPLY

To
(732) 978-9500
To Start Working With Us!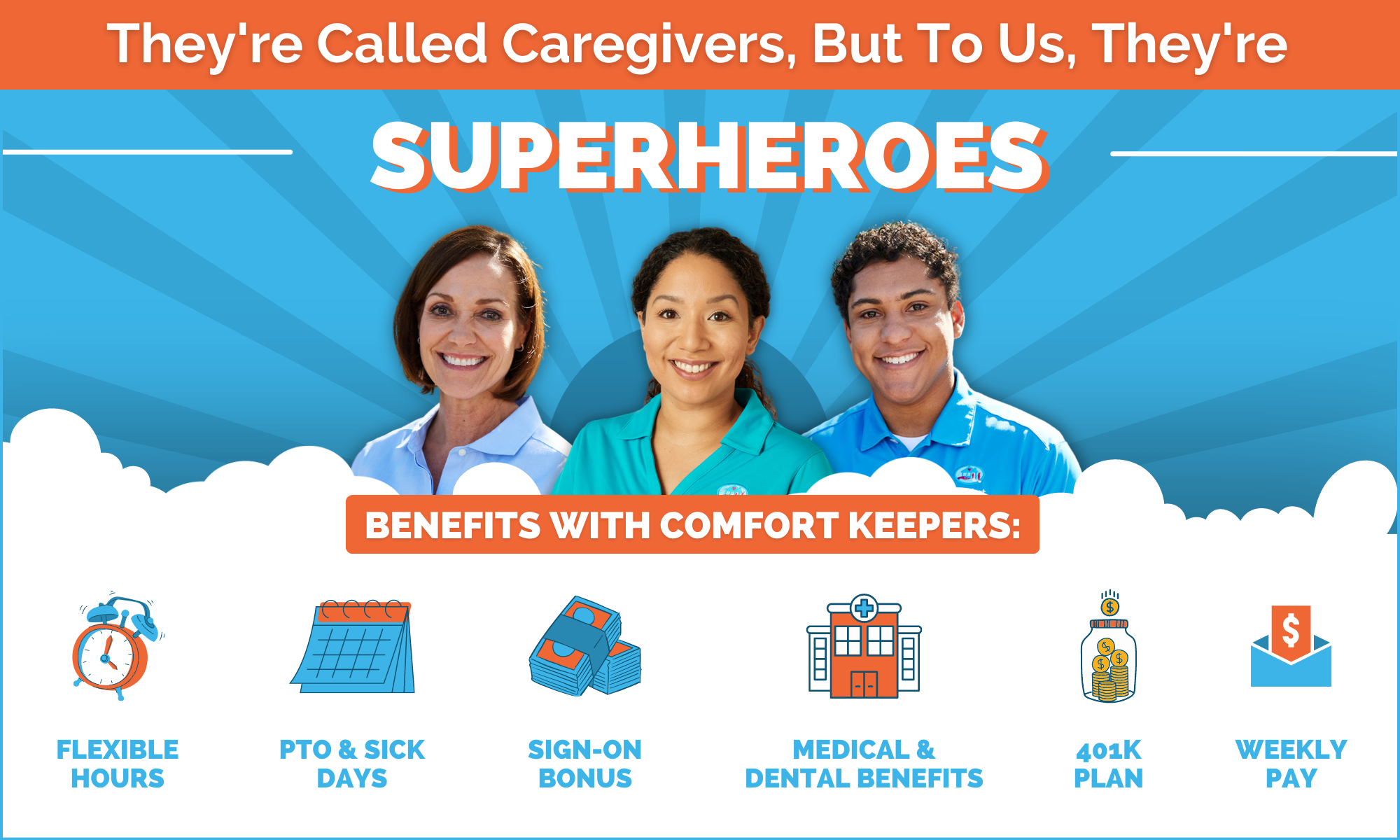 Text
APPLY
To 
(732) 978-9500
To Start Working With Us!
---
Get Certified as a Certified Home Health Aide (CHHA) With Comfort Keepers!
Are you passionate about caregiving and looking to elevate the human spirit through your work? Comfort Keepers is here to help. We are offering qualified candidates an opportunity to receive your CHHA certification, sponsored entirely by us!
What We Offer:
Complete 60 hours of online coursework and 16 hours of in-person clinical training, with all costs covered by Comfort Keepers.
A guaranteed job placement with Comfort Keepers upon successful completion of the program and certification.
Your Commitment:
A 6-month commitment to work with Comfort Keepers upon receiving your CHHA certification.
If you leave before 6 months, you are required to repay the training costs.
Why Become a CHHA With Comfort Keepers?
You will be part of a team dedicated to providing compassionate and professional care to seniors.
Our mission is to elevate the human spirit through quality, compassionate care. Join us in making a difference in our clients' lives.
Our benefits package includes competitive pay, flexible scheduling, paid time off, 401k options, and continuous learning opportunities.
Ready to Launch Your CHHA Career With Comfort Keepers?
Space is limited! Reach out today to see if you qualify for this exciting opportunity and to reserve your spot in our upcoming training session.
Call us at (732) 530-3636 or visit Caregiver / CNA / STNA Jobs in Central New Jersey | Comfort Keepers
Elevate your caregiving career with Comfort Keepers and become a Certified Home Health Aide!
---
Are You Looking For A Job Where You Can Make A Difference?
Have you ever considered a caregiver career? Caregiver jobs offer noble, rewarding work that improves people's lives. Former First Lady Rosalynn Carter said that caregiving is universal because we all need to give and receive care throughout our lives. If you are a compassionate and thoughtful person who equates good work with your own personal success, you could be a great fit for Comfort Keepers in Shrewsbury, NJ.
At Comfort Keepers, we hold virtues like kindness and dedication to be as important as intelligence and efficiency, and we reward them by offering competitive pay and paid time off, among many other benefits. Perhaps as importantly, when we take on new staff, they become absorbed into our family. We actively cultivate a compassionate culture within our company because we know that it radiates out to our clients and their families.
What, Exactly, Are Caregiver Jobs?
Caregivers can be defined as people who provide assistance and comfort to people with short- or long-term limitations due to illness, injury, or disability. While caregivers certainly monitor and provide assistance with medical conditions, they do a whole lot more, both inside and outside of the home. Aside from helping their clients remember to take their medications, caregiver services can also include:
Communicating Effectively with Other Healthcare Professionals, Clients, and Their Families

Bathing or Showering, Dressing, & Grooming

Assistance with Mobility Issues

Transporting to Medical Appointments

Preparing Meals & Eating Together

Helping with Housework
At Comfort Keepers, we think of caregiving in a holistic way, and our caregivers simply help their clients have the best day they possibly can. Though this might seem like a big umbrella, beneath which are lots of potential obligations, caregiving is about routines as much as anything else. Our caregivers focus on our mission, which is to provide high-quality in-home care services that keep our loved ones safe and in the comfort of their own homes.
What Is the Future of Caregiving?
The caregiver career is thriving. Not only is the live-in caregiver industry projected to grow by 38 percent over the next five years, but salaries have increased 26 percent for live-in caregivers over the last five years. Some folks take on senior care jobs, such as live-in jobs, as a way to enhance their job prospects. Indeed, some enjoy the work so much that they have the drive to continue to develop their capabilities, so they ultimately pursue a CNA career, which is also thriving due to demand. At Comfort Keepers, we offer continuous training opportunities so that our caregivers can grow into their ideal professional selves.
On a large scale, the future of healthcare in America mirrors our population's needs. As long as advancements in science and medicine help people live longer, and as COVID and other maladies, like cancer and heart disease, continue to thrive, the healthcare industry will continue to be stretched thin. Because of this, it will consistently have roles that need to be filled, from private-duty nursing jobs to full-time or part-time CNA jobs.
As the Baby Boomers—those that were part of the mid-20th-century explosion in American babies—age, the number of people reaching their golden years is going to increase dramatically. As they get older, of course, they will require ever more care and attention. When you couple this data with the fact that there is a crisis in rural healthcare, with nearly 30 percent of America's rural hospitals predicted to close in the near future, you can see how an in-home care career can be a stable and potentially lucrative choice. The need is there; could you be the right person to fill it?
What Are the Characteristics of a Good Caregiver?
It can be hard to pin down the single most important aspect of a great caregiver because they have a lot of responsibilities that cover a range of activities, as in-home care jobs often will. At Comfort Keepers, we like to think of our caregivers (and the rest of our team) as being dynamic agents for positive and lasting change.
The job is as much mental as it is physical, and it's as much psychological as it is remembering rote client details. On any given day, you will be expected to help your client prepare themselves to meet the world with dignity. Such elemental parts of dignity, like hygiene and grooming, are extremely difficult for our elderly loved ones. Yet studies show convincingly that when we show the world the best version of ourselves, we are necessarily happier.
You might also assist with some housework or communicate with a family member about something that needs to be put in play or ironed out. If the client needs to pick up some ingredients for a pie they want to bake, you'll take them shopping. If they want to go to the park for some fresh air, or to a coffee shop or the zoo, you will accompany them, both for support and for companionship. Your support is tantamount to their happiness, and here's the key: regardless of what you're doing, you're addressing them by their name and showing them the dignity and respect that they deserve. The communication piece is hugely important because it can help seniors maintain their peace of mind.
Meals are the perfect illustration of the depth of the caregiver/client relationship. Caregivers not only cook for or with clients, but they also dine with them. These moments, during which they're playing cards while eating rice pilaf or talking about life while waiting for the soup to cool off, are the moments when many caregivers report feeling most connected with their clients. There is no rushing or anxiety. Rather, it feels more like good friends sharing an experience.
What Kind of Education Does a Caregiver Need?
To become a professional caregiver in the state of New Jersey, you'll need to obtain a Certified Home Health Aide (CHHA) license. The training and licensing open the door to this rewarding field because it teaches about the professional responsibilities of working with patients to maintain their personal health and hygiene, while they are living at home.
CHHAs are taught how to read vital signs, administer medications under a nurse's supervision, and record and report on them for their clients' records. Often, CHHAs work in tandem with registered nurses, who develop written plans for the patients that the CHHAs carry out.
The basic requirements of pursuing a CHHA demand that you meet the following criteria for consideration:
You Must Be At Least 18 Years Old

You Need a High School Diploma or GED Equivalent

You Need a Government-issued Photo Identification

You Are Authorized To Work In the United States 

You Have Recently Completed a Physical Exam That Proves You're Physically Up For the Job
Overview of Caregiver Duties
As a Comfort Keepers caregiver, your primary responsibilities include providing companionship and personal care, assisting clients with daily living activities, and supporting their independence. It's a hands-on role that enables you to build genuine connections with clients and their families while enhancing their quality of life. Our caregivers can assist with a wide variety of tasks, from helping seniors make appointments and taking care of grocery shopping trips to light meal preparation and housekeeping services. Since we know that every senior is unique, we customize care plans to meet the needs of every client that we serve. When you become a caregiver with us, you'll enjoy the thrill that comes with helping senior adults live their best lives.
Benefits of Being a Comfort Keepers Caregiver
In addition to the personal satisfaction of knowing you're making a difference, our caregivers enjoy opportunities for personal and professional growth. With competitive pay, benefits, and a supportive work environment, our team has the resources and encouragement needed to excel in their caregiving roles. Whether you are just starting out as a caregiver or are relatively advanced in your caregiving career, you can find a place at Comfort Keepers.
Qualities of a Comfort Keeper Caregiver
A successful Comfort Keeper possesses qualities such as compassion, empathy, and reliability. They also demonstrate strong communication skills and a deep commitment to providing the highest level of care to their clients.
What Does a Career as a Caregiver Look Like?
A career as a caregiver comes with its share of perks. Aside from the fact that this industry is fit to keep trending up in the foreseeable future, it can provide a comfortable living. At Comfort Keepers, it comes down to a matter of respect: we respect our staff and our more earnest desire is for them to understand that so that they can focus on their good work. To this end, we offer more than just competitive pay. Some of the other benefits included in our hiring package include:
What Are People Saying About Comfort Keepers, Anyway?
It's easy for us to preach to you about the virtues of working in the in-home care industry, and, particularly, of our company, but we're just as happy to let others speak on our behalf. Our dedication to our mission, for example, has been recognized by industry leaders. In 2018, the National Business Research Institute awarded Comfort Keepers its prestigious Circle of Excellence award. From 2008 through 2018, the Franchise Research Institute presented us with its Extraordinary Achievement, Franchise Satisfaction award.
For the past two years, we have ranked higher for customer service than any other homecare provider, according to Newsweek's America's Best Customer Service survey. When we aim to elevate the human spirit through our work, these sorts of reviews, from our peers, reinforce the power and value of our mission.
Awards are pretty fantastic, but they don't tell the whole story. The people who work as caregivers for Comfort Keepers make seriously deep impressions on their clients, which is why it's so important to attract the right people to the work. Because we work so earnestly to protect our reputation as leaders in the field and to bring quality services to our clients, we carefully select, train, and vet our caregivers, knowing that they're the difference-makers. Quality days lead to quality lives and Comfort Keepers' goal, from the president on down, for more than twenty years, is to put together those quality days with consistency. Here's what some of our clients, and their families, have had to say about their experiences with Comfort Keepers:
Dorothy K, from Middletown, NJ wrote that she would "... recommend this agency because I'm pleased about everything and the workers are great!"
Barbara G, from Lakewood, NJ wrote that she felt very comfortable hiring Comfort Keepers because we are insured. She further insisted that she felt certain that she could reach out to us to solve any problems that arose. Hannah L, who lived out-of-state, is ever-grateful that we not only made things so positive and tranquil for her elder loved one, but that the logistics that we saw to made her life much easier. She made it a point of emphasis to write how our services trumped those even of a nursing home.
There are dozens more testimonials, at least, and there are certain words and phrases that keep popping up, such as "caring", "excellent", "above and beyond", "knowledgeable", and "fabulous". They point to a trend. Judy B. put a finer point on it when she said that not only are our caregivers punctual and neat, but they simply pitch in where they are needed. Of all of the information that is embedded in this document - and hopefully, you see yourself in some of the caregiver descriptions provided - this phrase just about covers it all. Our caregivers simply pitch in where and when they are needed.
We don't like to lose people, but when we do, they usually have positive things to say about their experiences with Comfort Keepers. Almost to a person, the former employees that have taken the time to post reviews on employment websites like Indeed speak fondly about their time with us.
Among the more salient points is the fact that Comfort Keepers is a caring and compassionate employer that provides an awesome working environment. The one that sticks with us most today reveals that Comfort Keepers was "... a fun place to work. The office is great at making sure that everybody's needs are met equally."
This equity can look like a lot of different things, from requesting a different schedule to getting a weekend off. To us, our methods are in-tune with our desires. We show kindness and support to the people who we expect to show kindness and support to their clients and we wonder, how could it function any differently?
Ready to Launch Your CHHA Career With Comfort Keepers Today?
Space is limited! Reach out today to see if you qualify for this exciting opportunity and to reserve your spot in our upcoming training session. Call us at (732) 530-3636 or visit Caregiver / CNA / STNA Jobs in Central New Jersey | Comfort Keepers.  Elevate your caregiving career with Comfort Keepers and become a Certified Home Health Aide!