---

Become A Caregiver.  Become A Hero.
Apply to become a home caregiver in Cherry Hill, NJ.  You can help make home the safest place for seniors to be!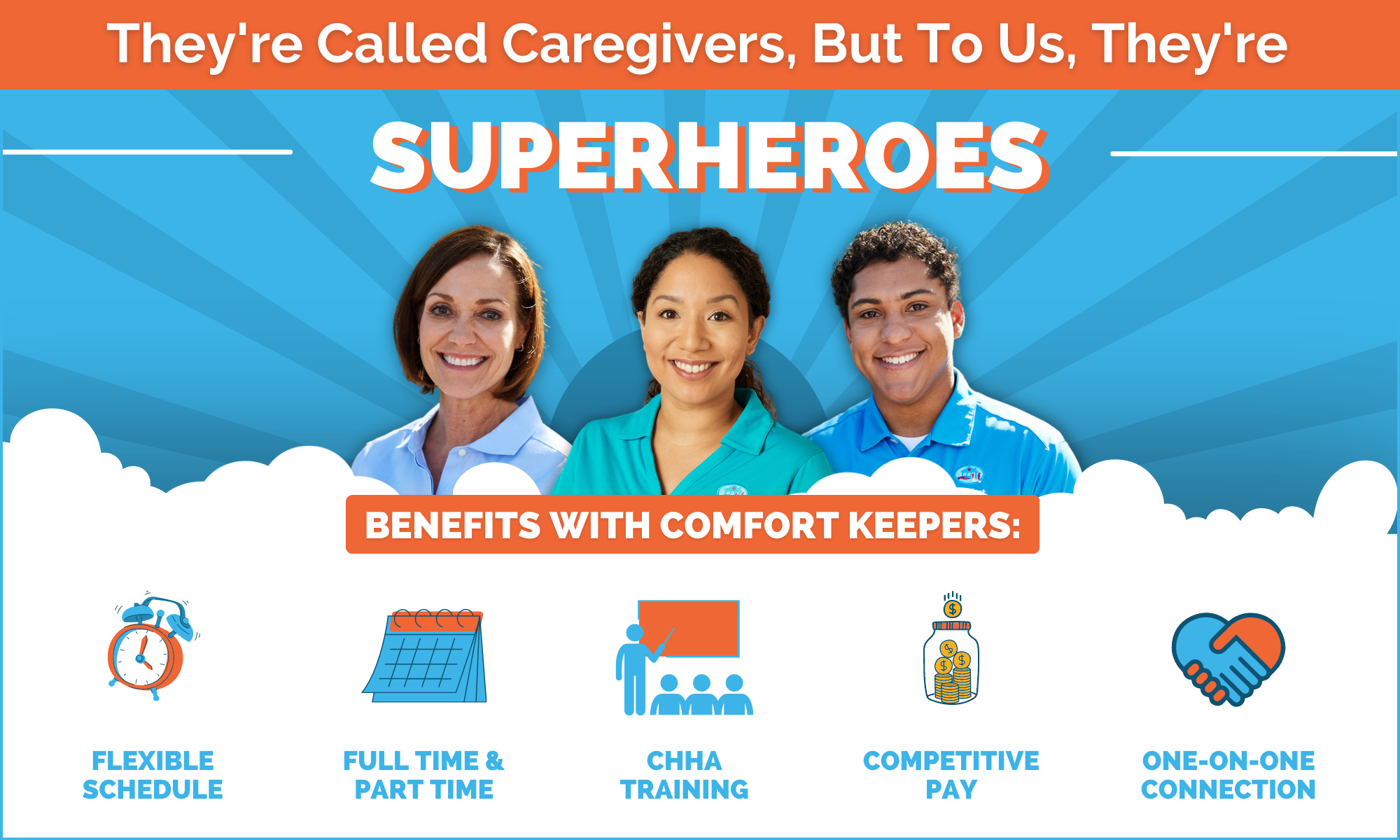 ---
Caring Careers: Explore Rewarding Caregiver Jobs in Cherry Hill, NJ with Comfort Keepers
Comfort Keepers seeks reliable, trustworthy, and empathetic individuals who enjoy spending time with seniors. Caregiver jobs in Cherry Hill are currently open to assist seniors in meeting their companionship and personal care needs.
With the assistance of skilled caregivers who have been meticulously screened, selected, and educated, we offer a unique brand of exceptional and empathetic in-home care.
Opportunities for caregiving careers in Cherry Hill can be found through Comfort Keepers. We are a thriving and innovative home healthcare agency.
Values of a Successful Senior Caregiver
Our approach to caring for seniors is based on a set of basic values and ideas that guide our decisions every day:
Respect: We treat every senior with the greatest care and dignity because we know they have lived a full and unique life.

Kindness: Our caregivers do their jobs with real compassion and empathy, helping people emotionally and physically.

Freedom: We put seniors' independence first to live on their terms and stay self-sufficient.

Safety: The safety and well-being of our seniors come first. We put strict safety rules in place to ensure they are always safe.

Engagement: We urge seniors to participate in meaningful activities and spend time with others to help them avoid loneliness and improve their quality of life.

Quality Care: Comfort Keepers is dedicated to giving the best care possible by putting best practices, continuing education, and thorough training at the top of its list.
Overview of Caregiver Jobs in Cherry Hill
In Cherry Hill, there are many different caregiver jobs available. We allow them to work as senior caregivers and home health aides. The emphasis on individualized care for elderly people is how home care services like Comfort Keepers set themselves apart.
In a town like Cherry Hill, where community matters, caregiver jobs aren't just careers. They're ways to make a difference one day at a time.
Steps to Secure a Caregiver Job with Comfort Keepers
Landing a caregiver job at Comfort Keepers of Cherry Hill is an opportunity worth pursuing. You'll be part of a team providing individual care for seniors, but how do you get started?
Investigate our employment openings as a first step. We'll give you all the training you need to deliver top-notch in-home care.
Apply today if your skills and experience align with the listed requirements. The application process may seem daunting. But remember: it's just another step towards securing your future in this rewarding field.
What Skills and Qualifications Are Required for Caregiver Jobs?
Becoming a caregiver in Cherry Hill requires certain skills. A home health aide, or specialized caregiver, often includes offering personal care assistance to seniors.
An in-home caregiver should be compassionate, patient, and reliable. They should also be physically fit to assist with daily tasks.
Responsibilities and Duties of an In-Home Caregiver
An extensive range of duties are included in the position of caregiver. Seniors' security, happiness, and well-being depend on the performance of these responsibilities. Caregivers are entrusted with vital activities essential to their care, whether they work in assisted living facilities or provide direct care to clients in the privacy of their homes.
Seniors are bathed, fed, and dressed as part of care services. Our caregivers take care of their daily needs. The U.S. Census Bureau says these jobs become more important as society ages.
Whether you're a 24-hour caregiver or visiting occasionally throughout the day, remember every task you perform makes a significant difference in someone's quality of life.
Benefits and Rewards of Being a Caregiver in Cherry Hill
Becoming a caregiver is more than just getting competitive pay or having flexible schedules. It's more than that. You're making a true, substantial impact on people's lives.
The Rewarding Nature of Caregiving
Every day as a caregiver, you help seniors live comfortably at home. Your work lets them stay connected with their loved ones and communities.
For our seniors, who are in the greatest need of it, your commitment to giving personal care means the world.
Infusing their daily routine with smiles, warmth, and companionship, caregivers help seniors enjoy special moments. Because of this, caregiving occupations are among the most fulfilling careers.
The Demand for Caregivers in Cherry Hill
Cherry Hill and nearby communities have a high need for caregiver jobs. The number of seniors who need assistance at home has increased significantly.
Caregiving is becoming more than just a job, as this increase suggests. It's a fulfilling career path that has a big impact on society. Seniors with caregiver support can live more comfortably and independently.
The Importance of Caregiver Jobs in Society
Caregiver jobs in Cherry Hill, like those at Comfort Keepers, play a crucial societal role. These dedicated in-home caregivers offer vital services to seniors needing help with daily tasks.
Caregiving is not just about providing physical assistance. It involves giving emotional and social support to seniors.
In our society, caregivers are very important. Families, communities, seniors, and individuals are all impacted by the effect of a caregiver.
Future Prospects for Caregivers in Cherry Hill
If you're looking for caregiving jobs in Cherry Hill, the rising need for senior care is encouraging news. More knowledgeable senior caregivers are required to care for the aging population.
This shows that there are many opportunities in Cherry Hill. Given these points, being an in-home caregiver may be personally satisfying and good for your career.
Explore Caregiving Careers in Cherry Hill with Comfort Keepers
You've now looked into the satisfying field of caregiver jobs in Cherry Hill.
You've seen how they make a difference every day, from providing direct support to seniors at Comfort Keepers.
You now comprehend the steps of attaining a caregiving career in Cherry Hill. It necessitates commitment, specific expertise, and credentials. Providing care brings forth emotional gratification beyond monetary compensation.
You have delved into their responsibilities: helping seniors with personal care or health-related needs. You've discovered what sets apart caregiver roles at different senior care companies like Comfort Keepers.
Given the rising demand for caregivers in Cherry Hill and the neighboring areas, the future appears promising for them. This is an opportunity to establish a rewarding career full of compassion rather than just a job.
Starting a rewarding career as a caregiver in Cherry Hill, Haddonfield, and the surrounding areas is possible with the assistance of Comfort Keepers. Please call us at (856) 857-6120 to learn about the caregiver positions we offer.